For some time now and with considerable interest I have been following some stories in the news concerning the Noahide Laws, which are the laws the
B'Nai Noach
(Children of Noah or Noahides) claim God gave to the Gentiles following the Great Flood according to the Hebrew Bible. This cannot, however, be found in Scripture. Rather they are found in the Talmud, which is not God's inspired Word. It is interesting to note that the Noahide Laws can also be found in the religion of Islam, making it possible for this to be a point of unity between the Jews and Arabs at some future date. I came across this information while I was doing some research on my articles,
THE GOLDEN RULE TWISTED
, (Parts 1 and 2, and the addendum). I discovered that the Noahide Laws have been equated with the Golden Rule by some. The Noahide Laws have also been called
The Covenant of the Rainbow
. For a good overview of the Noahide Laws, click
HERE
.
There is a prophecy in Daniel 7
which says:


23Thus he said, The fourth beast shall be the fourth kingdom upon earth, which shall be diverse from all kingdoms, and shall devour the whole earth, and shall tread it down, and break it in pieces.

24And the ten horns out of this kingdom are ten kings that shall arise: and another shall rise after them; and he shall be diverse from the first, and he shall subdue three kings.

25

And he shall speak great words against the most High, and shall wear out the saints of the most High,

and think to change times and laws

: and they shall be given into his hand until a time and times and the dividing of time.

"
I wonder if there is a connection between this prophecy and the Noahide Laws.
***************************************

There have been a number of news report in January about the Noahide Laws.
While George Bush was in the Middle East this month, the newly formed Sanhedrin was also
meeting to discuss the Noahide Laws on the week he was there. (Read the January 10th article,
Sanhedrin Recognizes Council to Teach Humanity 'Laws of Noah'
in the
Israel National News
for yourself). Although these meetings of the Sanhedrin with the B'nai Noach were being reported in the major Israeli newspapers, not much was being said about them anywhere else. I suppose it was taking a back seat to the Peace Talks.
The
Jerusalem Post
had an article on January 24th called
Parashat Yitro: Every Knee Shall Bend
.
This is significant because Noahides believe that peace and righteousness on the earth is only possible when the Noahide Laws are in effect worldwide, and are intent on making them so. They also believe that when they are put in effect worldwide, the Messiah will finally make His appearance for the first time in history. This is contrary to the Bible (OT and NT) which teaches that peace and righteousness is in Christ alone, and that Christ having already appeared to this world over two thousand years ago, will return one day to establish His physical kingdom after He has conquered Satan and his system. This would mean that the messiah the Jews are expecting is, in reality, the Antichrist.
Schlomo Riskin (Jerusalem Post article,
Parashat Yitro: Every Knee Shall Bend)
had this to say:
Returning to the biblical message of Yitro, at the very least we are enjoined to oppose human enslavement and spread the Ten Commandments. After all, the Midrash on the verse "God came forth from Sinai [after] He had shown [His laws] to them from Seir and revealed [them] from the Mount of Paran …" (Deuteronomy 33:2) teaches that God initially offered His Decalogue to the descendants of Esau (Seir) and then to the descendants of Ishmael (Paran), only to have them rejected by all except Israel.

And Maimonides rules that only the Jews must keep the 613 commandments for ultimate "salvation"; it is enough for the gentile world to accept the Seven Noahide Laws of morality

(Laws of Kings 8,10).

But we certainly must proselytize every human being to keep those seven laws - do not worship an idol, do not misuse God's Name, do not murder, do not commit licentious sexual acts, do not steal, respect all creatures, and create a judicial system to enforce the first six laws. (emphasis mine)1.
There are several reasons these news reports (and I have read many over the past month) are significant. They are:
Jews who hold to the hope of the first appearance of a soon-coming messiah, also believe that the worshipers of Christ are worshiping a false god, since they do not recognize the Lord Jesus Christ as God and Messiah. The Noahide Law forbidding idolatry claims that Jesus is a false God because "God is One" in their religion, and anyone who believes in a triune God would be breaking that law. They also believe Jesus of Nazareth was the illegitimate child of Mary and a Roman soldier, and a lunatic who believed himself to be the Messiah, deceiving people into following Him, thus initiating the cult of Christianity.

This would mean that anyone who is a Christian would be in violation of the Noahide Laws and subject to punishment under the law.
The punishment for breaking this law is decapitation. Revelation 20:4 says that decapitation is the method the antichrist uses to kill the saints: "Then I saw thrones, and they sat on them, and judgment was given to them And I saw the souls of those who had been

beheaded

because of their testimony of Jesus and because of the word of God, and those who had not worshiped the beast or his image, and had not received the mark on their forehead and on their hand; and they came to life and reigned with Christ for a thousand years."
According to my research, and according to the Talmud, the application of the law (decapitation) is only able to be implemented when the Temple is in place in Jerusalem.
***************************************


The
official website for B'Nai Noah
has this to say:
Four Ways of the Death Penalty

Execution of the death penalty is the component and integral part of the first of Seven Biblical Laws - about establishment of courts and appointment of judges. However the death penalty itself can be used as punishment for deliberate and conscious infringement upon one of Seven Laws only when Jerusalem Temple exists. As it's explained in Mechilta (Midrash Hagadol, Shemot 21:14): "Even from My altar you shall take him to die; that is if there's Temple - is sentenced to the death penalty, if there's no - is not sentenced." That's why today while there's no Temple, cases which may lead to death sentence are not considered.
It all refers to our world - the world of humans. But Midrash explains though human's court has no right to put to death nowadays - noone (sic) cancelled Heavens' court and it judges everyone in accordance with one's actions and deeds, each second. And if somebody deliberately infringes upon one of six prohibitions - he brings death sentence of Heavens upon himself. Such sentence is executed by definite sequence of events or by concatenation of life's circumstances. Read "Death from the hand of Heavens" subsection below for more details.
We live at times that Tora directly calls "birth pangs" before Mashiach's (Messiah - Biblical language translation) coming. Times when evil strengthened curiously. And times when world itself balances at the edge of abyss, hardly and miraculously keeping from breaking away. Righteous Mashiach is just about to come (may it happen soon, in our days) and the reigning will return to house of David. And he will build the Temple and fulfill numerous prophecies which already started coming true. In his days all laws are going to return to functioning, as it was before: all will honour G-d, bring sacrifices and establish courts to guard observing of Seven Laws among the peoples of the world (emphasis mine)- according to all details described in Tora.
That's why it's so important to say about rules prescribed by Scripture as for malicious breakers of Seven Laws and it's important to say that today already. For tomorrow may come very unexpectedly...
There are four ways of the death penalty in Bible, that court can sentence to. They are:
- Skila (throwing down onto stones - Biblical language translation);
- Srefa (burning - Biblical language translation);
- Hereg (execution with sword - Biblical language translation);
- Henek (strangulation - Biblical language translation).
Execution with sword is done the following way. The convict is decapitated by cutting off his head with sword the way the kingdoms did in previous times. He's beheaded standing and his body falls dead under its own weight after the head is cut off (Babylonian Talmud, Tractate Sanhedrin 52b).2.
Third Law is No Idolatry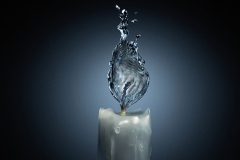 Worshipping idols is called
Avoda Zara
in Biblical language (alien service - Biblical language translation). Sometimes
Tora
uses other terms
- Avodat Elilim
(serving to powers - Biblical language translation) and
Avodat Kokhavim
(worshipping stars - Biblical language translation). In the most general outline it all can be defined as serving and worshipping anything except G-d. In other words - the recognition there are some different powers, except for Hashem, that can somehow influence our fate.
What does it all mean in practice? Christians are idolaters as far as their cult includes the worship to the regular human, who was executed by the sentence of the Sages' court, but whom Christians consider to recognize and openly call their god. (emphasis mine). The way of worship typical for this idol is "to cross".
And RAMBAM writes both about this cult and about Islam ("Mishne Tora" Religious Code, Laws of Kings and Their Wars 11:4):
"And about Jesus from Nazareth who got a false idea to consider himself Mashiach (Messiah - Biblical language translation) and was executed by the sentence of court - prophet Daniel prophesied about him as it's written (Daniel 11:14): And parvenus from your people will exalt themselves to bring about the vision but they will fail - and can there be a failure bigger than that? Coz
(sic)
all prophets spoke of Mashiach who rescues Jewish people, and saves them, and brings back to their land those scattered from them, and strengthens them in observing the commandments. But that one became a cause of death of Jews from sword, and of exile of those remained at their land yet, and of their humiliation. He substituted Tora and misled the majority of humanity the way they started worshipping him instead of Creator.
3.
*************************************



Here is an excerpt from another blog,
Maurice Pinay Blog
, which contains quotes from the Encyclopedia Judaica. (I generally prefer not to use second-hand quotes unless they are from a trusted source, but have chosen to do so in this article because the EJ is not available online.

What are the Noahide Laws?



NOACHIDE LAWS, the seven laws considered by rabbinic tradition as the minimal moral duties enjoined by the Bible on all men (Sanh. 56–60; Yad, Melakhim, 8:10, 10:12) ...

The seven Noachide laws as traditionally enumerated are: the prohibitions of idolatry, blasphemy, bloodshed, sexual sins, theft, and eating from a living animal, as well as the injunction to establish a legal system (Tosef., Av. Zar. 8:4; Sanh. 56a). Except for the last, all are negative, and the last itself is usually interpreted as commanding the enforcement of the others (Maim. Yad, Melakhim, 9:1). (Encyclopaedia Judaica, "Noahide Laws")



Who is an idolator according to the codifier of Judaism, Moses Maimonides?



"The Christians are idolaters, and Sunday is their holiday..." (Maimonides, Mishneh Torah, Avoda Zorah 9;4)



How does the Judaic "justice" system of double standards handle those accused of disobeying Noahide law (ie. Christian "idolaters")?



A non-Jew is put to death on the basis of a decision given by one judge [no jury], and on the basis of testimony given by a single witness, and even if he was not given a proper warning prior to the commission of his offense. He is put to death on the basis of testimony and a decision given by a man but not on the basis of testimony and a decision given by a woman, and the man who testified or decided against him can even be a relative.

A Jew can only be put to death by a court of twenty-three judges, and on the basis of the testimony of two male witnesses who are not disqualified from testifying on account of kinship, and after being properly warned against committing the transgression. But none of these rules apply in the case of a non-Jew. (Babylonian Talmud, Sanhedrin 57b, Steinsaltz edition, vol.18, page 110)



What happens to those found guilty of disobeying Noahide law in a Judaic kangaroo court?



... violation of any one of the seven laws subjects the Noachide to capital punishment by decapitation (Sanh. 57a).(Encyclopaedia Judaica, "Noahide Laws")

4.



*************************************

I have been finding evidence that B'Nai Noach have been very active worldwide in spreading their message. Below is an example from
Chabad Tokyo Japan Blog
(The News and Blog of the Jewish Community in Tokyo). Ambassadors from six countries signed a proclamation for all of mankind to accept the Noahide Laws (Mitzvos).
The event described here happened in February 2007 as far as I can tell.
***************************************

On Yud Shevat, a big event was held in Tel Aviv, in honor of the Rebbe Shlita Melech Hamoshiach. Rabbi Binyomin Edery, Chabad Tokyo, flew in especially to talk at this momentous occasion.
Ambassadors from six different countries came to take part in the gathering and declare in the name of the states they represent, their support of the Sheva Mitzvos Bnei Noach. They represented; Poland, Latvia, Mexico, Panama, Ghana, and Japan, they were part of a special program organized by Harav Boaz Kali.
Harav Kali spoke shortly about the work being done to spread the message of the Sheva Mitzvos Bnei Noach, followed by a short video on the importance of the Sheva Mitzvos. To the amazement of the audience at the Kinus, the embassadors signed a special proclamation which calls for all mankind to follow the Sheva Mitzvos Bnei Noach and to accept the everlasting kingship of the Rebbe Shlita as Melech Hamoshiach. 5.

*****************************************



Another interesting thing to note is that
The US Congress has officially recognized the Noahide Laws
as the laws which are the foundation of civilized society, replacing the Ten Commandments, which were have since been removed from many public buildings. This resolution was passed on March 26, 1991 and was designated "Education Day". The resolution reads

To designate March 26, 1991, as `Education Day, U.S.A.'. (Enrolled as Agreed to or Passed by Both House and Senate)


--H.J.Res.104--

One Hundred Second Congress of the United States of America

AT THE FIRST SESSION

Begun and held at the City of Washington on Thursday, the third day of January,

one thousand nine hundred and ninety-one

Joint Resolution

To designate March 26, 1991, as `Education Day, U.S.A.'.

Whereas Congress recognizes the historical tradition of ethical values and principles which are the basis of civilized society and upon which our great Nation was founded;

Whereas these ethical values and principles have been the bedrock of society from the dawn of civilization, when they were known as the Seven Noahide Laws;

Whereas without these ethical values and principles the edifice of civilization stands in serious peril of returning to chaos;

Whereas society is profoundly concerned with the recent weakening of these principles that has resulted in crises that beleaguer and threaten the fabric of civilized society;

Whereas the justified preoccupation with these crises must not let the citizens of this Nation lose sight of their responsibility to transmit these historical ethical values from our distinguished past to the generations of the future;

Whereas the Lubavitch movement has fostered and promoted these ethical values and principles throughout the world;

Whereas Rabbi Menachem Mendel Schneerson, leader of the Lubavitch movement, is universally respected and revered and his eighty-ninth birthday falls on March 26, 1991;

Whereas in tribute to this great spiritual leader, `the rebbe', this, his ninetieth year will be seen as one of `education and giving', the year in which we turn to education and charity to return the world to the moral and ethical values contained in the Seven Noahide Laws; and

Whereas this will be reflected in an international scroll of honor signed by the President of the United States and other heads of state: Now, therefore, be it

Resolved by the Senate and House of Representatives of the United States of America in Congress assembled, That March 26, 1991, the start of the ninetieth year of Rabbi Menachem Schneerson, leader of the worldwide Lubavitch movement, is designated as `Education Day, U.S.A.'. The President is requested to issue a proclamation calling upon the people of the United States to observe such day with appropriate ceremonies and activities.

Speaker of the House of Representatives.

Vice President of the United States and

President of the Senate.

(emphasis mine)

6.


*********************************


I would also like to caution anybody involved in the Hebraic Roots movement, as it seems to be leading Christians into converting to Judaism and the Noahide Laws. Keep your head up on this one. For additional reading on this subject, click
HERE
and
HERE
.
I am
b
eginning to wonder, in light of the many events involving the Sanhedrin and the B'Nai Noach lately, if the attempt to implement the Noahide Laws could be the fulfillment of this prophecy of Daniel 7:25. I have also begun to question my belief in a pre-tribulation rapture. I'm not convinced that one should be dogmatic about it, as I wonder if we can really understand the sequence of events in the last days until they are upon us. At this point in time I am not ready quite yet to let go of the pre-trib rapture, as I believe there are just too many indications in Scripture that point to one, but I am beginning to wonder. At any rate, I think it is important to be ready for Christ's return at any moment, but to also be ready to face intense persecution and even martyrdom should that be the case. If the Noahide Laws should come into effect during our lifetime this will surely be the case, as followers of the Covenant of the Rainbow consider Christians to be worthy of death. So far, this appears to be a piece of the puzzle in the end-times picture. Just how, where and when it all fits remains to be seen ~ something to keep an eye on at any rate.
******************************